We've been really enjoying our little garden. It's not much and I'm still learning lessons...and battling deer and rabbit. I'd love to have the time to make it super special. Maybe this Fall we can make it part of the children's lessons. I know Zander and Drew would both love that.
I really like Potager style gardens that combine edibles with beautiful flowers so the whole garden looks beautiful. The slightly more British take is the "Cottage Garden" another philosophy of making sure the place that you grow your veggies looks pretty. Though it is a bit less manicured looking that I'd like (and the HOA would be cool with, hah).
1) Bayless Gardens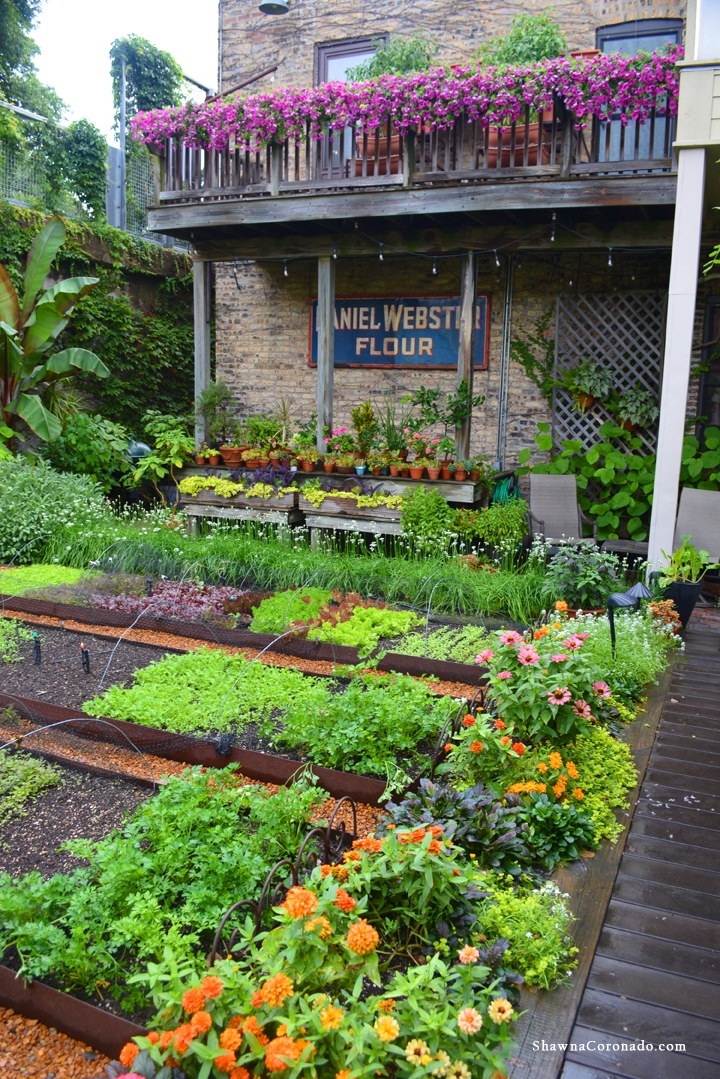 From https://shawnacoronado.com/
My biggest source of garden envy is the Bayless Gardens in Chicago. I would not call myself the biggest tracker of Michelin stars, but back in my wilder days as a Chicago-ite, I did indulge a bit in such things. Rick Bayless has not only name recognition but also, he does a good job of presenting a down to earth image.
He lives in a very trendy neighborhood of Chicago called Bucktown and owns three houses. He lives in one, rents out the other two and churns out veggies for his garden in the 3 city lots. A standard Chicago lot is 25x125ft. But that includes the buildings. I've heard that the whole backyard area is only 1000 square feet, but he pumps out $200,000 worth of organic produce for his restaurants! Interestingly, he does not practice crop rotation. He just liberally adds compost and employs the use of beneficial flowers. He succession sows to keep greens coming for his restaurant. Okay
HE
doesn't succession sow personally so much. He employs a team of gardeners to help tend it since a garden this size is a full time job and he's got a restaurant empire to run! It's not just one gardener either...but a whole team so I guess I can forgive myself for not having a garden like this!
He also keeps chickens in his backyard, which is not as unusual as you might think in Chicago. I have several friends who have them. And he as a roof top garden at one of his other restaurants that make peppers, tomatoes and onions.
2) The Nitty Gritty Potager Blog
From The Nitty Gritty Potager
This blogger has a beautiful blog and garden! She actually has moved over to
Olde Thyme Food Garden
, which also has drool worthy pictures. I love her mixture of ornamentals along with the edibles. She's created a great environment for all the best bugs and animals and it looks amazing.
She has great advice for every season and so many different veggies and flowers.
And, she has a wonderful Pinterest board: https://www.pinterest.com/tanja_pickrell/
3) The Gardens at Otahuna Lodge
4) Mark's Veg Plot
From https://marksvegplot.blogspot.com
I like that this garden has an eating space in it. Although in this picture you can't see so many of his beautiful plants. I just really love the idea of a little eating nook nestled amongst the lush greenery. If you
click here
you can see some more pictures. I'm so impressed with all the produce he can create in his lot. He also has a
great collection of good advice
.
5) The Garden Roof Coop
Here is another blogger who has a wonderfully amazing garden. The marigolds as edging are so pretty. And functional as they attract all the right kinds of bugs and discourage several bad ones. Plus the friendly bright colors are so inviting. In addition to her kitchen garden, she also has some great resources on
making a buttery garden
!
6) Grow Veg
From Grow Veg
Grow Veg encourages planting edibles with ornamentals, but
this particular post
has some great ideas. This is actually a company that makes a garden planning software. Interesting concept.